FRIENDS OF BPN





Interesting websites about nature and trees:



Todar (Zmicer Wajciuszkiewicz)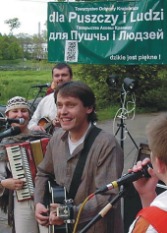 Todar (Zmicer Wajciuszkiewicz) - a well-known Belarussian artist living in Minsk, he was a leader of such bands as Pałac, Krivi, W-Z Orkiestra. He sings & composes, has released more than dozen albums, writes also soundtracks. Along with the folk group "Czeremszyna" he performed in special concerts for saving the Bialowieza Forest, for that reason he also appeared in Polish tv programmes dedicating 'The Song of the Bialowieza Bison' to the Forest. In 2006 he was one of international signatories to the letter to Polish president with demand for making the national park in the whole Forest.
VIDEO FILE
SONG IN SCENERY OF BIALOWIEZA FOREST